Dedicated Email Server Solutions partnering with your Corporate System Administrators:
Email Provider, Email Host in the Philippines with Filipino Tech Support
1,000 email users for only P 35,000 / month
Dedicated Spam, Anti-Virus, White Listing control panel… avoid false positives.
Archive Emails: for Legal discovery, Audit, Regulatory and Compliance Requirements.
Dedicated servers offer better privacy than cloud based or shared space email servers.
Professional name servers combined with stand by mirrors for continuous corporate email service.
Some operating systems we use:

Let your system administrators concentrate on user support. Let us concentrate on supporting your system administrators.
Fast, optimized website hosting included!
Free setup of local mirror email server in your office for fast local IMAP access.
Filipino support available via voice, video, chat, email, text, remote control.
Over 10 years solid experience in dedicated server email solutions.
Some Email Technologies we use:


Your Email Server Provider is: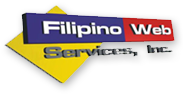 Filipino Web Services, Inc.
Cel: 0917-843-3755
Email: sales@filipinowebservices.com